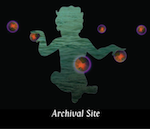 Welcome to our website
Please enjoy our web pages to find out more about Happy The Man's history, discography and to view our archive of photos. Any news of upcoming events will be posted in the concert information pages. If at any time you would like to move to the Archival Site just click on the black icon just above.
Peace, love and light.....